ABOUT US
From Birmingham to London.
From 2012 to 2023.
We tell you the whole story of SLAMBURGER.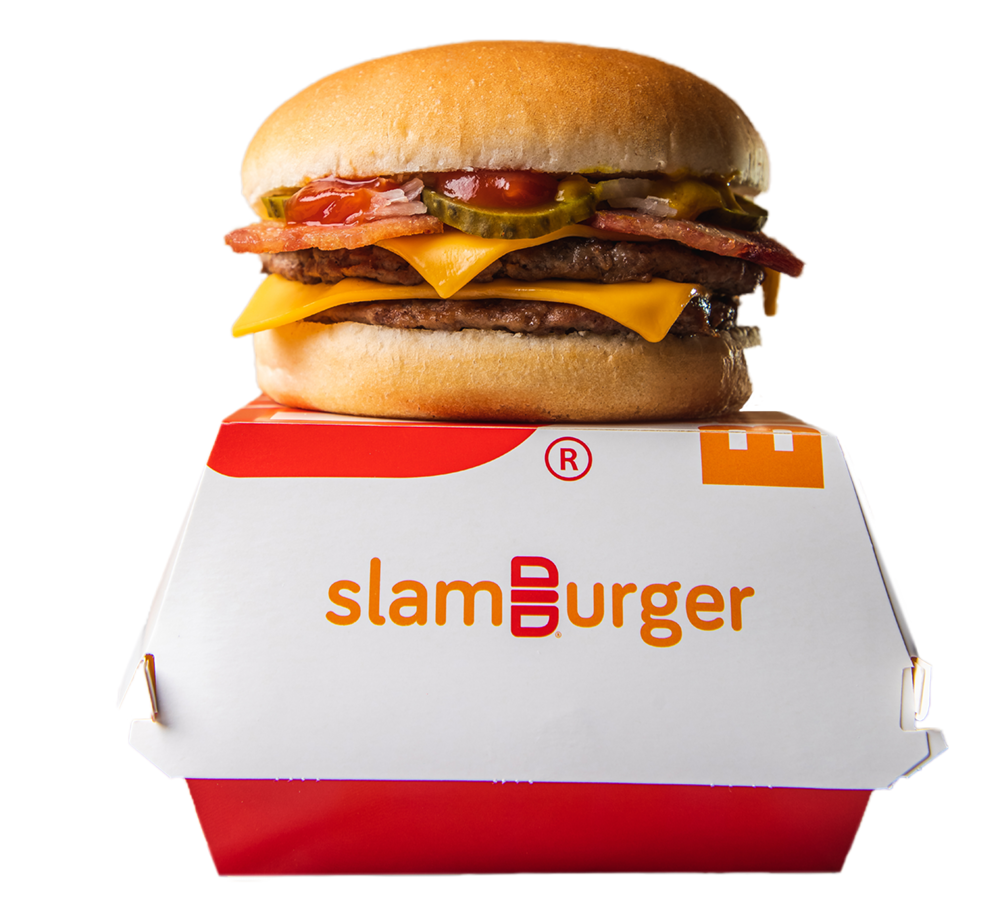 Slamburger, a fast food chain specialising in halal burgers, began its journey in 2012 with the opening of its first shop in Birmingham. It quickly gained popularity and expanded, opening a bigger shop on Ladypool Road in 2016 and doubling its surface in 2017. SLAM then expanded to London in 2019, and returned to Birmingham with a second store in Alum Rock in 2020. The chain continued to expand, opening shops in Luton, Aylesbury, Reading, Leicester, Cardiff, and Edgware between 2020 and 2022. SLAM's success is evident in the crowd that gathers on opening day at each new location.

100% BEEF
All our beef patties are made with 100% beef. You can go for 45g patties with the famous Cheeseburger, the Giant Max or our superstar, the Big Slam. We also use 90g patties as you can find in the Flame Grilled burgers or the Royal Smokey.

100% HALAL
Halal standards are highly valued at SLAMBURGER®, as we aim to serve you the best food quality. We make sure that each one of the items on our menu are 100% halal.

FRESH INGREDIENTS
Every day, the chicken and vegetables are brought in and finely prepared for your delight. We carefully select the best items to ensure your food is always at its best.

5 STARS HYGIENE
All our restaurants are regularly checked and subjected to very strict hygiene standards which meet the same standards allowing us to obtain 5 star food hygiene rating in our first restaurant in Birmingham.

MADE TO ORDER
More cheese? No tomatoes? Extra sauce? We make it just the way you love it. Every time you order at SLAMBURGER®, we freshly prepare your food just for you.

ENVIRONMENT
Recycling and waste management are two of the biggest environmental challenges. At SLAMBURGER®, we are committed to work with the best partners to ensure that we keep our streets clean and tidy.

"Quality is outstanding, atmosphere is nice with a clean environment."
Sabeel Bashir, Google review 2018.

"The burgers and fries are made to order, it's so fresh."
Mr Mann, Google review 2019.

"Best customer service and burgers you could imagine."
Hashim Yousaf, Google review 2016.

"Good quality burgers. Quick service. And tasty food"
Jebran Zahid, Google review 2020.